Artist – Stephanie Pais
Stephanie's artistic development began at age 7 when she enrolled at Roseway Waldof School. Waldorf taught Stephanie to hone her talents as a creative individual. Sculpting, painting, woodwork and music have since become a part of her life. Stephanie has combined her love for music in many of her paintings which span nearly two decades.
Stephanie does as much art as she can when she gets the chance. Most of her artwork themes are African with a lot of bright colour and musical references. She like using mixed media for texture purposes – and likes the way that texture draws people in – texture makes people want to come close and touch. Stephanie loves painting musicians and has an awesome collection of black and whites done that will be going on sale soon.  She started a clothing brand back in 2010 called Muzo Clothing for which she did a lot of graphic design. Stephanie also uses her creativity in creating CD covers and promo material for her music.
The Musicians Collection
The musicians collection is a set of five paintings that were painted between 2008 and 2011. Each canvas measures 83 cm x 110 cm. If you are interested in purchasing this collection please email stephpais@gmail.com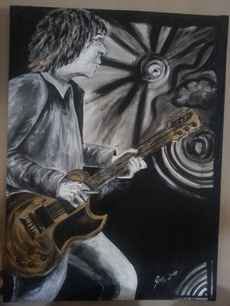 A Thai Interpretation
(For Sale to the highest bidder)
Year 1999